Client Story
Microsoft Sydney
Australia / Software & Technology


New flagship office: a window into the future of workplace
Faced with challenges from the COVID-19 pandemic, Microsoft sought to offer their employees safer working solutions in the realization of their new hybrid office model in Sydney. Global design studio GroupGSA focused on technology, flexibility, and nature when designing the cutting-edge Microsoft offices located in Sydney, Australia, that uses the Vecos Smart Locker System for personal storage.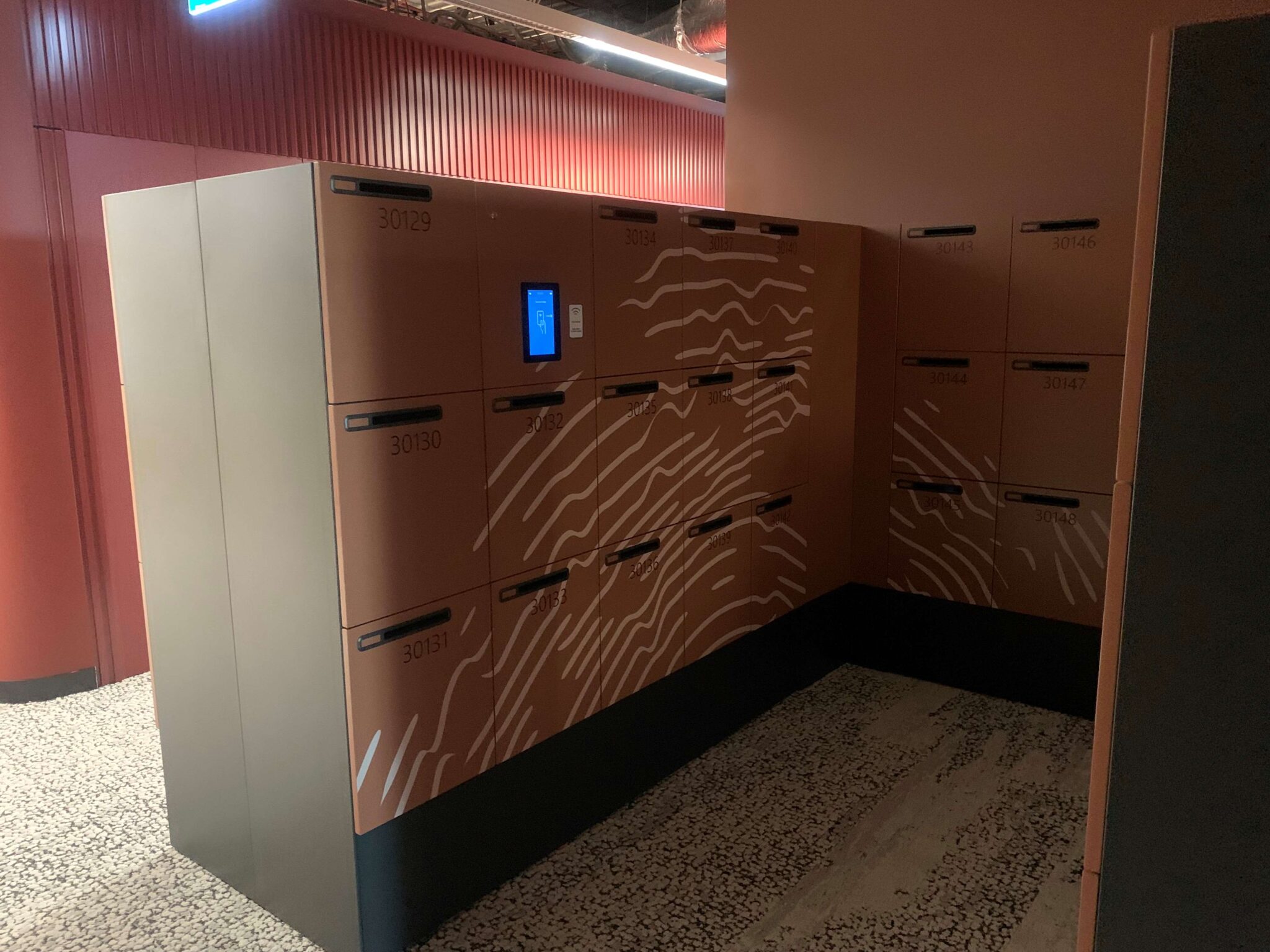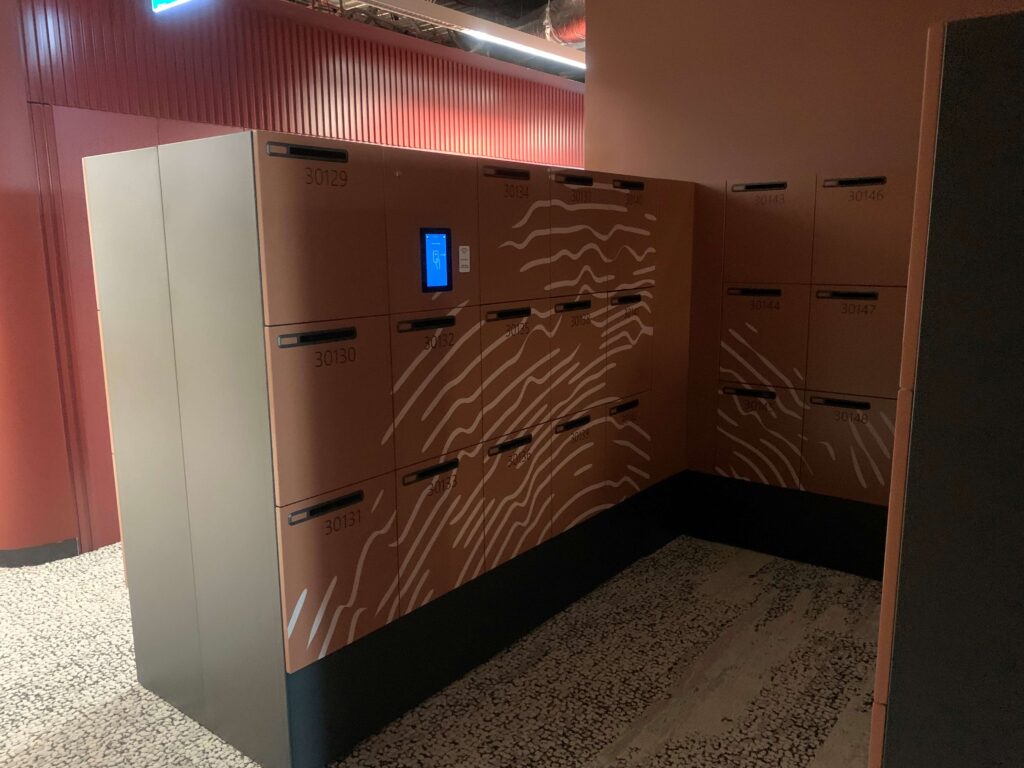 Treading New Terrain
Located at 1 Denison Street, the 10,000sqm office will house 1,400 employees over seven levels, consolidating the tech giant's three offices in the Sydney CBD. The office bucks many conventional trends of atypical office design. The practice has taken advantage of the fact that the company will be housed in one of the smartest buildings in Sydney, allowing for flexible work anytime, anywhere. 
Ashish Mehrotra, Microsoft's Head of Real Estate and Facilities in Asia Pacific, says the pandemic has outlined that engagement and productivity has remained unaffected, nor is it a barrier to having a thriving company culture. "Our new space at 1 Denison St breaks the traditional mold of what an office can and should be," he says. "This is clearly shown in the design of the new space, where remote and in-person workers are on equal footing."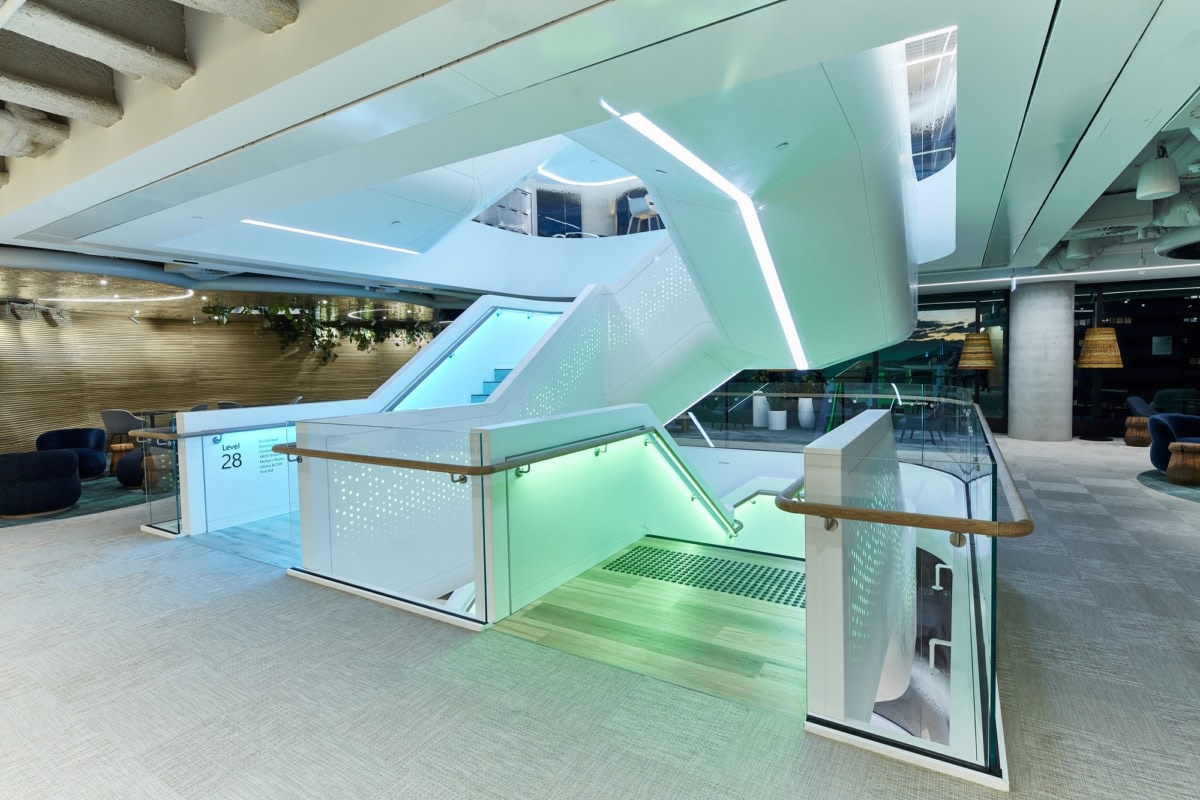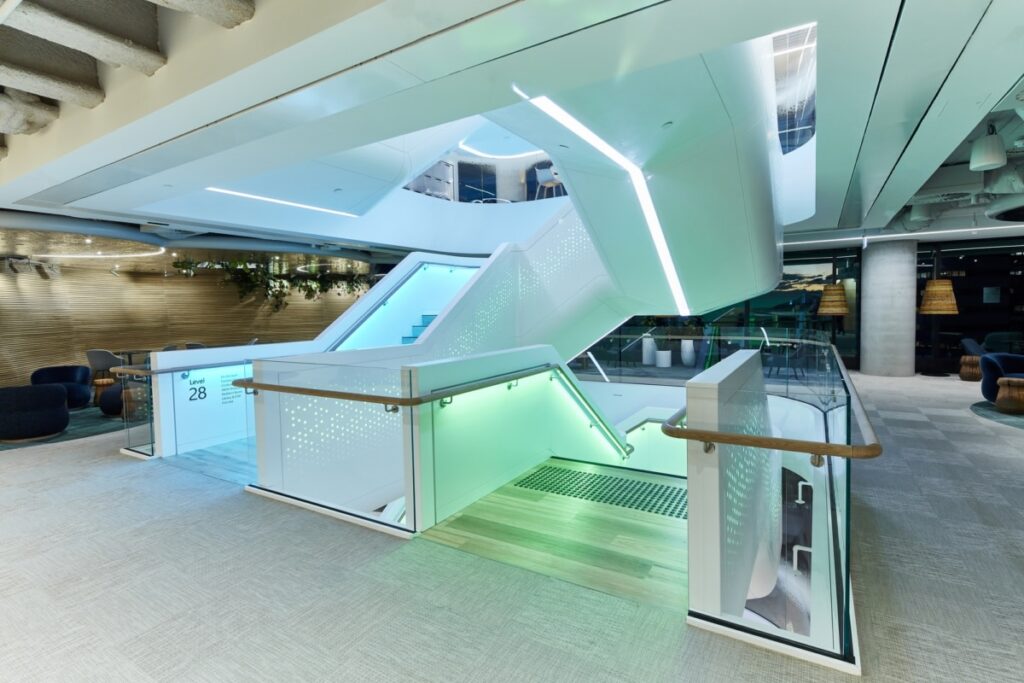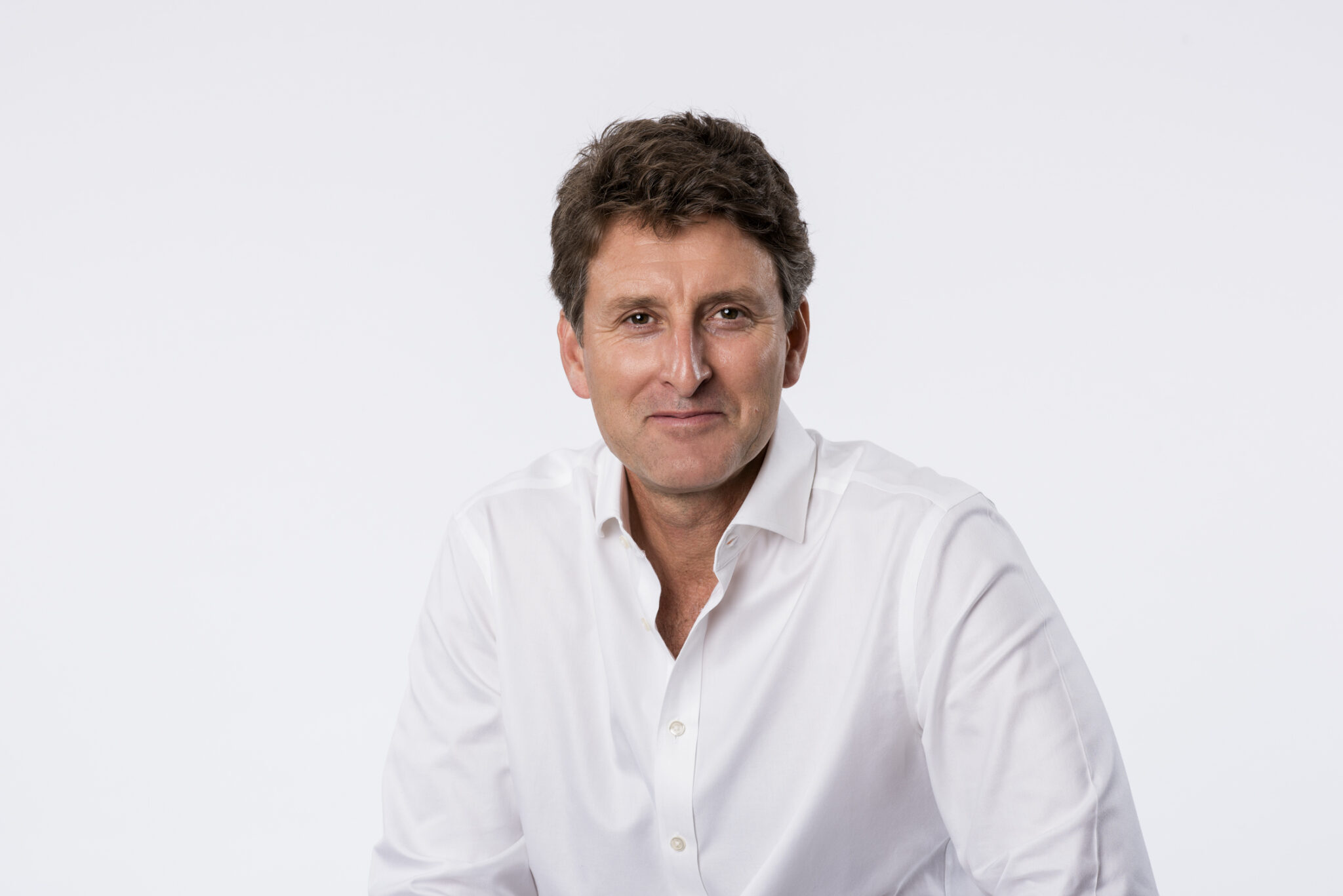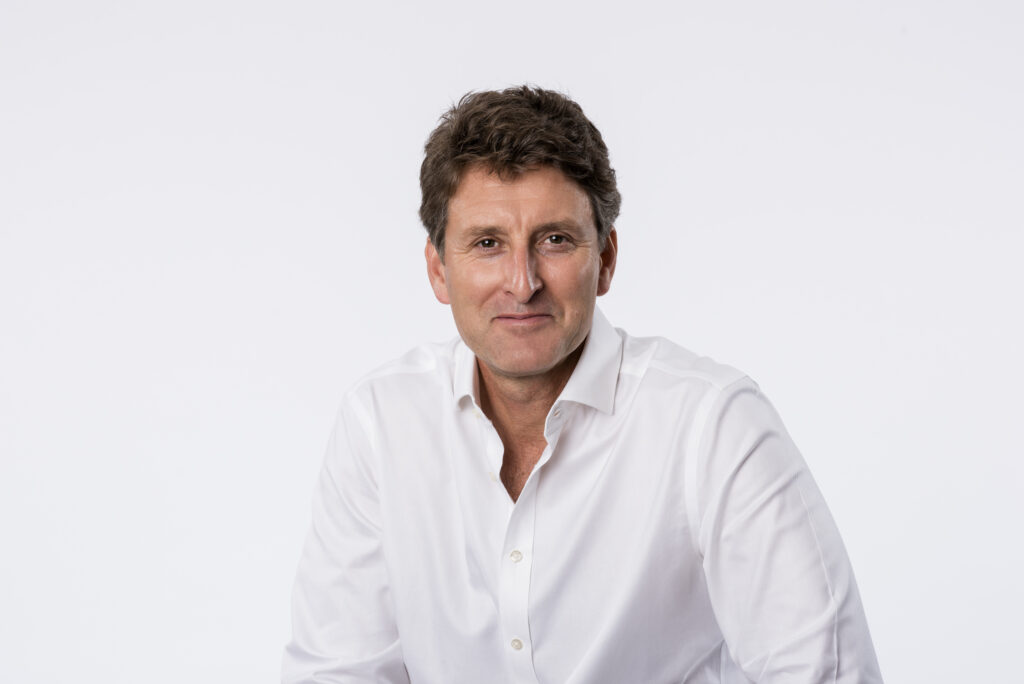 "1 Denison gives Microsoft Australia the opportunity to create an environment in the heart of North Sydney's CBD that inspires our people, is closer to our customers and partners, and showcases the best of Microsoft's technology and services. It's a workplace that energizes our employees and empowers them to do their best work, while reflecting the culture and spirit of innovation inherent in the Microsoft brand."
Steven Worrall
Managing Director at Microsoft Australia
The journey to an employee's desk is an experiential one 
Channeling some of the country's most iconic landscapes and home to views of Sydney Harbour, GroupGSA Principal and project lead Pablo Albani says the journey to an employee's desk and meeting spaces is an experiential one. "To get to the areas of work, you have to traverse different elements, like enclosed and semi-enclosed spaces, cave-like environments and tunnels of greenery."   
Prototyping was key to the successful delivery of this project. It allowed the Microsoft team to appreciate the feel, form and function of the space. IT also enabled serviceability, clash detection, aesthetics and functionality testing to be completed prior to finalizing the remaining fit out components. The finished space features an arrival floor, customer floor and work floors.  
With over 2,000 data connections and over 150km of network cabling, technology is integrated throughout the entire fit out. Other highlights include conference rooms, live stream space, small serveries, Xbox room, wellness space with gym, mothers' room and first aid room, grab & go kitchen and community space and computer 'key' wall. In addition to the standout elements, 3,000 items of loose furniture were sourced from 20 regions around the world, including Australia, with over 5% indigenous involvement across the fit out.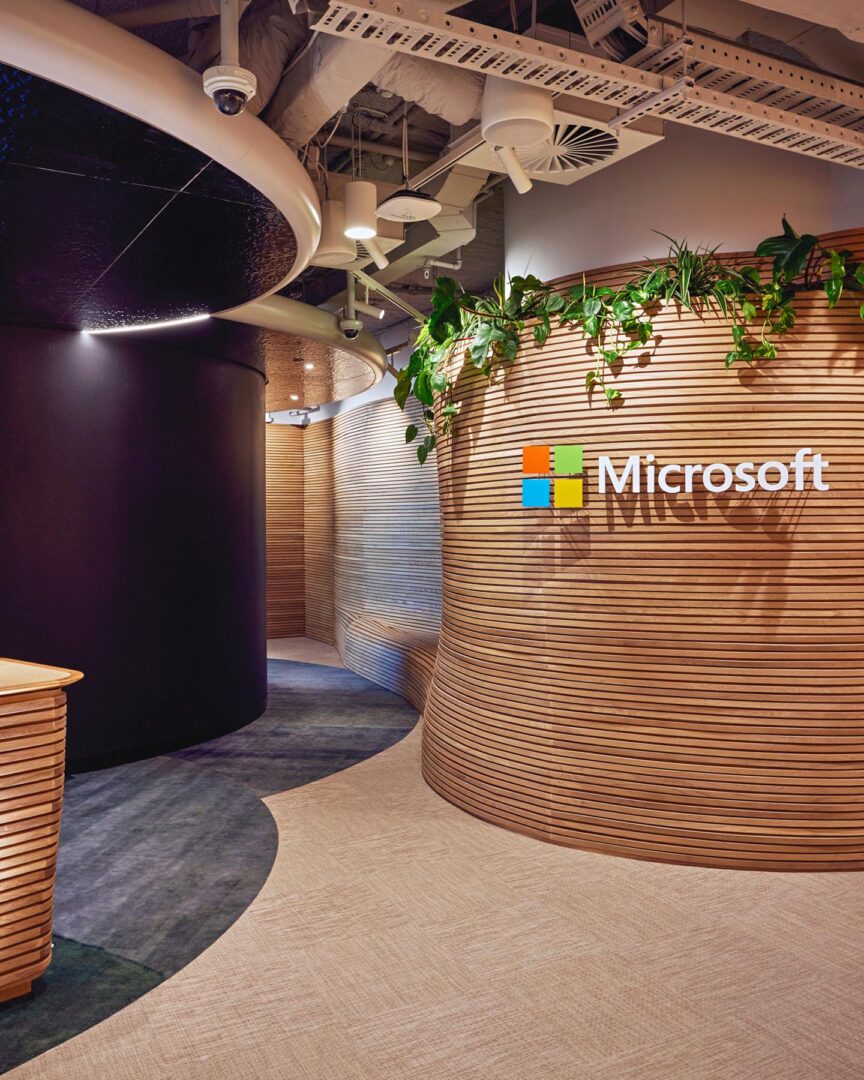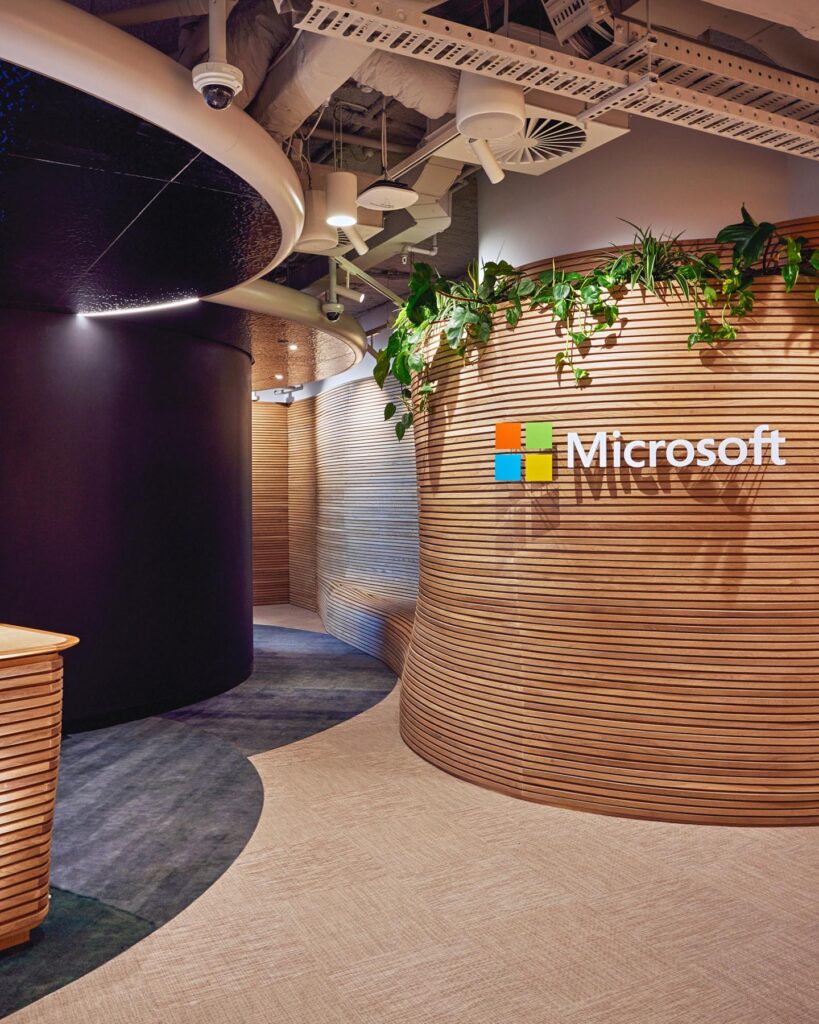 A physical space to come together and connect
Smart office sensors and digital whiteboards allow employees to contribute in a way that best suits them. The building's capabilities give employees the ability to book a number of amenities via the 1 Denison app. The app can be utilized for employees to order and pay for food, book a massage or schedule a barre or yoga class at the building's wellness center, The Nest. Modern maintenance facilities include cleaning robots which traverse the floors. 
"We know that employees still want and need a physical space to come together and connect," Ashish Mehrotra says. 
"An open space, concierge on arrival, communal dining area, an onsite barista, and grab-and-go food options prompt people to meet, eat, collaborate, and socialize. There are also areas for board games and flex spaces that adapt to varying purposes or sports watching nights."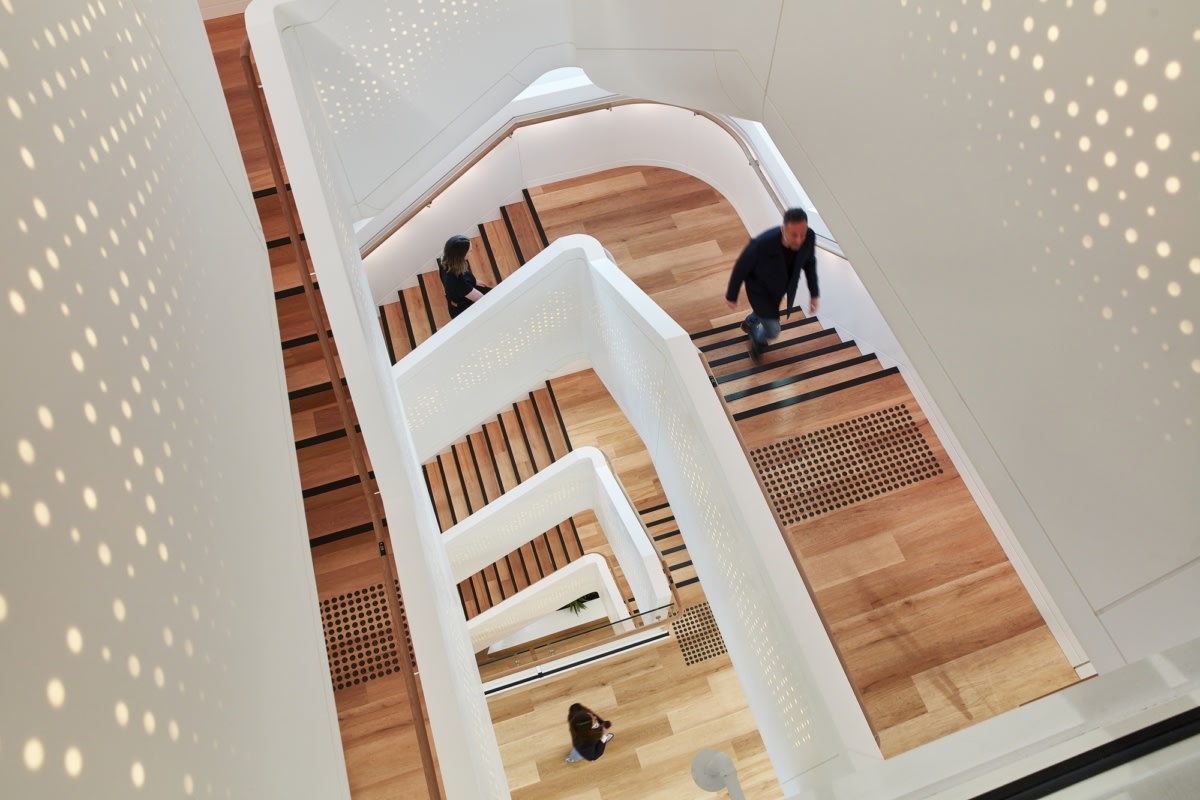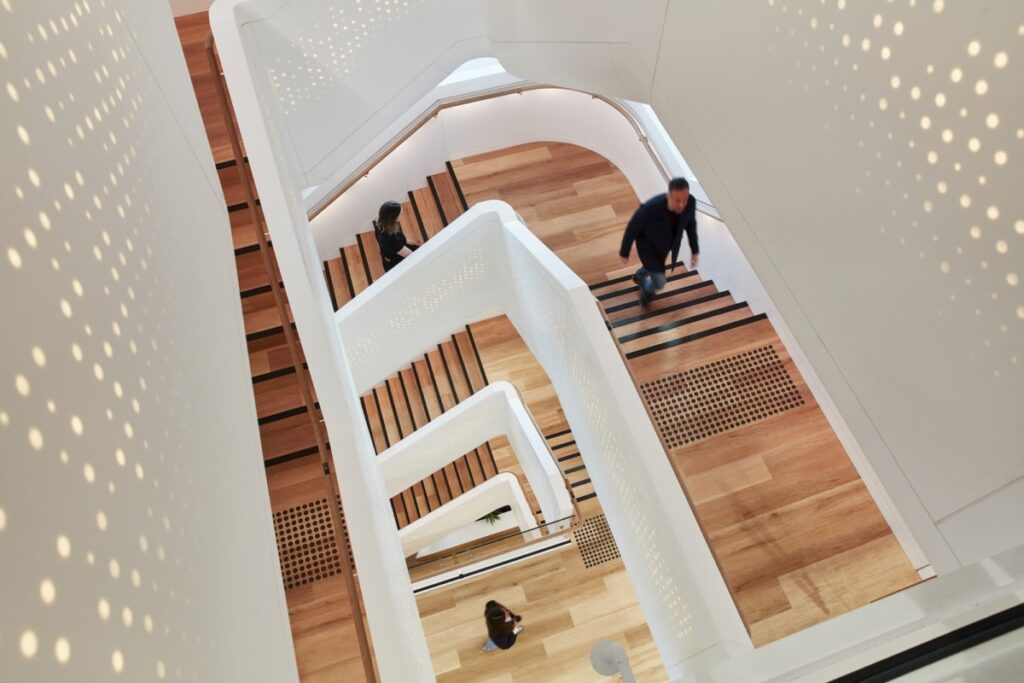 Supporting today's mobile workforce to create the extraordinary
Mehrotra says each floor individually serves the needs of Microsoft's diverse range of employees. 
"They can choose quiet corners for solo work, comfortable sofas for informal meetings, and reservable meeting rooms for more involved sessions. Team neighborhoods, screened-in workshop areas, touch-down desks, sound-proofed phone booths, and conversation rooms all work together to support today's mobile workforce." 
Responding to the conventions of the post-pandemic workplace, GroupGSA's response includes a minimum of 1.5m spacing at all work points, hand sanitation stations and no-touch automatic door operation using swipe controls. 
Jessica Margiotta, a member of GroupGSA design team, says tech companies, like Microsoft, need their talent to be constantly stimulated, future-focused and pushing boundaries. Key to this is good workplace design. "Microsoft's new flagship office in Australia changes the perspective on what a workspace is and how it functions," she says. "The result is a workplace design that inspires its employees to create the extraordinary."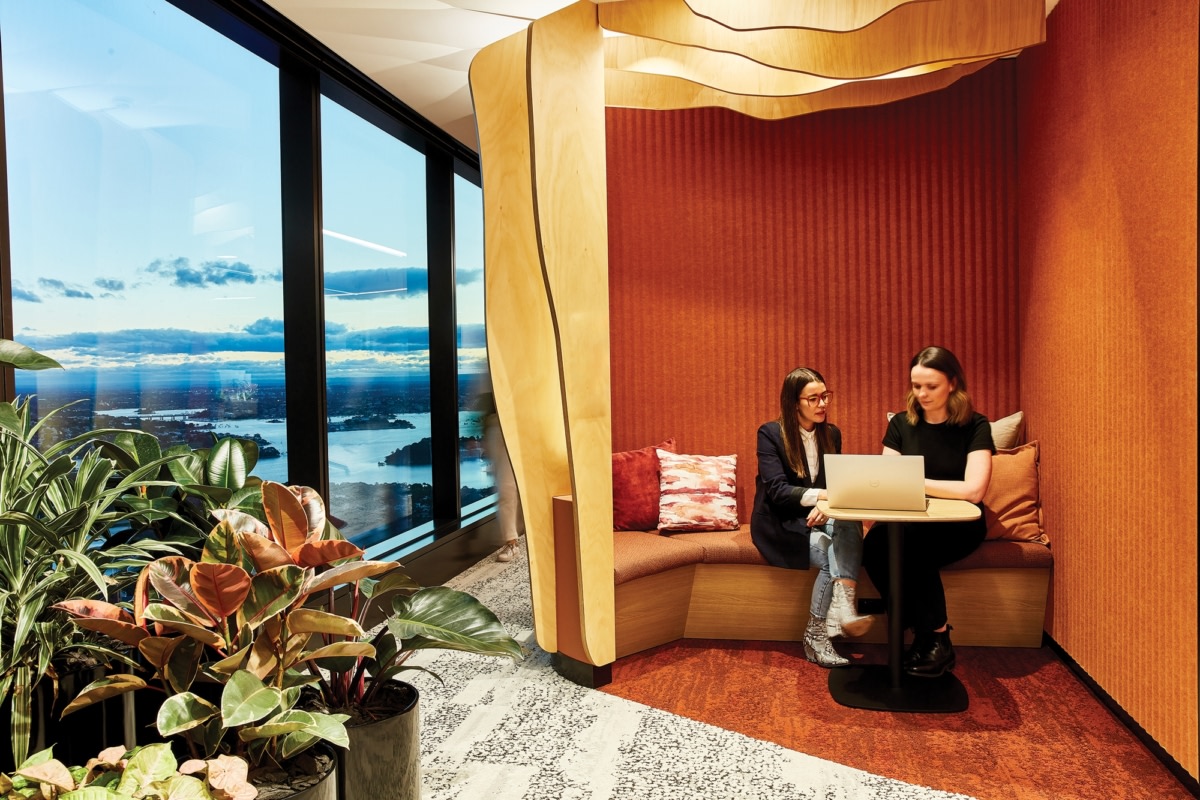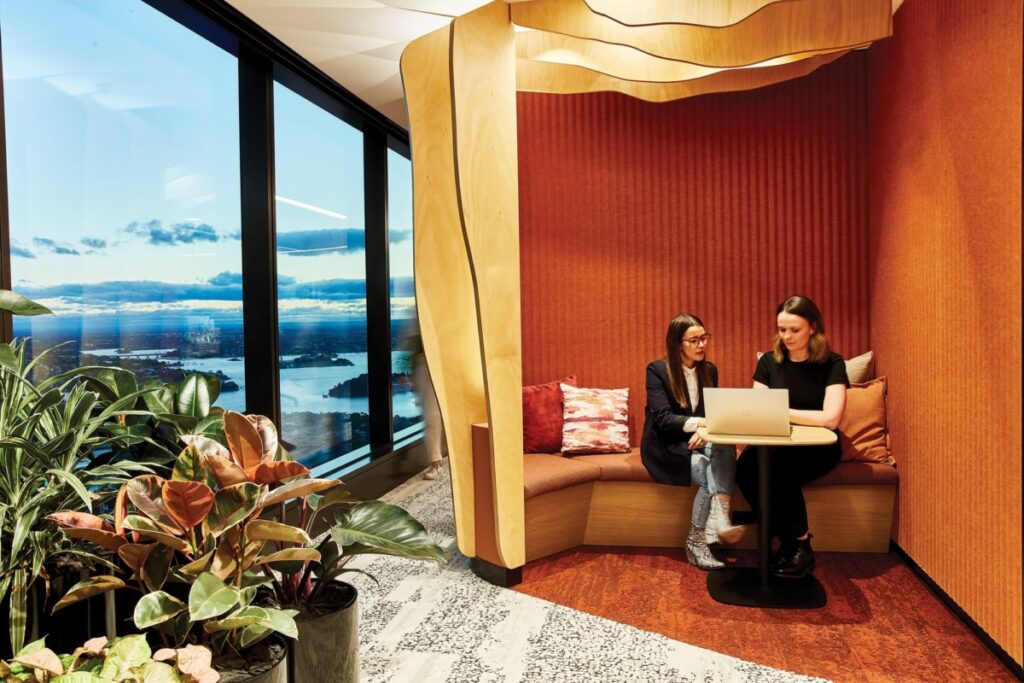 The results
More than 1,200 smart Vecos lockers provide flexible personal storage 

 

Some 1,400 Microsoft employees will operate from 1 Denison St — North Sydney's tallest and smartest tower

 

Collaboration powered by advanced technology allows for flexible work — whenever, wherever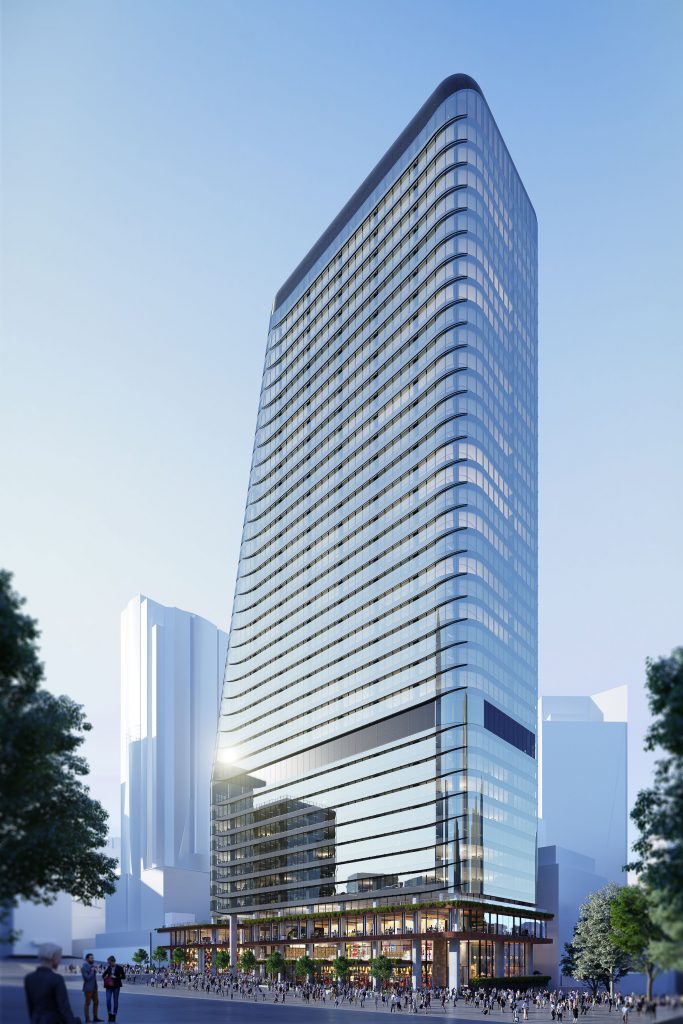 Ready to get smart?
A smart locker management system gives your people the freedom to work from anywhere, without needing a fixed desk. Get a personal recommendation today from the market leader in smart lockers.