The power of partnerships
Powerful partnerships help us realize world-class seamless solutions for our clients. We're proud to work with many of the best-known technology brands around the world – as well as some of the most exciting disruptors in the world of office flexibility.
Seamless integration with any IT ecosystem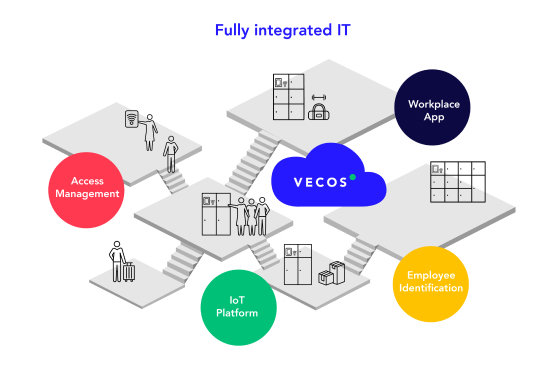 Workplace Management Systems

Vecos has API integrations with the leading workplace management systems to enable a unified employee workplace experience.
Identity and Access Management

Seamless integration with a multitude of identity and access management systems, which ensures employee data synchronizes securely and optimally.
Any locker can become a smart locker
Furniture Channel Partners

We work with global powerhouse furniture brands, as well as local, agile interior specialists. This ensures a smooth transition and single point of contact, always. Our furniture channel partners deliver the right locker cabinets, to create an integrated, turn-key smart locker solution. Our system can work with any locker design and material.
A one-stop-shop in smart locker expertise
Strategic Alliance Partners

Going all-in is part of our DNA and has delivered our greatest success stories. This is certainly the case when we look at our allied partners. The highest tier in our Channel Partner Program, our allied partnerships have delivered commercial success with a long list of happy clients around the world as a result.
Join us
If you make furniture and are interested in providing our smart storage solution to your clients, or simply would like to cooperate with us on projects – please contact us via the contact details below.
Want to know more about the possibilities?
Please contact Jeroen Gieling